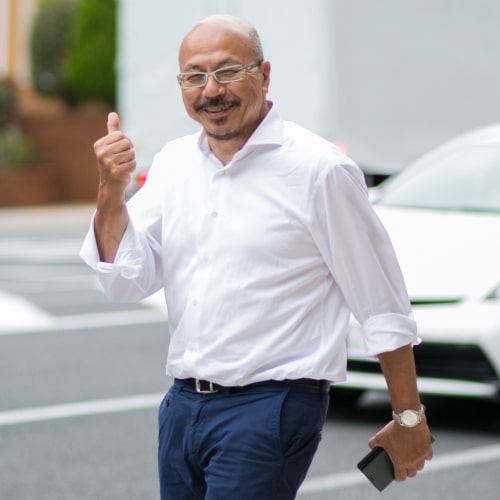 Let us learn from each other and grow together daily.
— President Ogura Kiyoshi
― First of all, could you tell us about the history of your company?
Our company was founded in 1971 by Seijiro Ogura, who named it "Sanyoken Regulus." The name is a combination of the abbreviated form of "Industrial Research" (Sanyo Ken) and the first magnitude star in the constellation Leo (Regulus), reflecting the founder's commitment to accuracy. The company initially aimed to create running machines using a patent for a continuously variable transmission, but due to poor sales it discontinued its machinery development and switched to textile product manufacturing. In 1993, to align its image with its brand for women, the company changed its name to "Leonis," another name for Regulus.
Our company carries on the founder's vision and never shirks from conducting research to contribute to society.
The company started by manufacturing materials for textile factories, establishing a reputation for accurate quality standards and clear specifications. It then expanded its distribution by developing consumer packaged goods and supplying OEM products to major wholesalers, as well as developing its own unique brand products such as the "Leonis" household items and "Cor Leonis" shirts for women. Since 2002, it has also been involved in online sales and cross-border e-commerce in Europe and the US since 2016. In 2021, the company celebrated its 50th anniversary and is ready for the next 50 years of change.
― Please tell us about your thoughts on management that you value.
The meticulous craftsmanship of Japanese products starts with a heartfelt consideration for the customer. We believe that marketing is about conveying the sincere feelings of crafting something that was repeatedly thought about, focusing on the customer's lifestyle. In a rapidly changing world, it is important to constantly ask questions in order to respond. And always try to learn and improve. Repeating the same thing without change makes no sense. We aim to improve, not just perform the work. The one thing that cannot be changed is the desire to contribute to society. We want to continue to be a company that is useful to society and the world's lifestyle. "A factory that creates the future with energy" is a copy of the desired company's feelings 30 years ago. Our company always keeps in mind that we are a challenger who considers "corporate social responsibility" and "individual career accumulation".
― Do you have a vision for the future of your company?
Our company aims to bring happiness to people all over the world through B2B cross-border e-commerce from Japan. We aim to create a new trend by utilizing information technology, such as the internet, information processing and security, to connect consumers and manufacturers.
― What are your thoughts on the basic values ​​and credo that you expect from your employees?
As stated in our Mission and Values, I believe that good work styles, a good spirit, and the accumulation of good careers will lead to the achievements of the company, which is a community.
― How do you spend your free time on holidays?
In my free time, I like to do things like mountain climbing, cycling, reading, and learning English and Chinese through YouTube. I have a passion for trying new things. Last year, I developed a liking for visiting art museums and galleries to disconnect from daily life and spend some quiet time alone. My favorites are Nakanoshima Art Museum, The National Museum of Western Art in Tokyo, and the Tokyo Metropolitan Art Museum.
Starting from October last year, on Sundays, I participate in an early morning meditation at temples and hiking through Meetup groups in the afternoons. These activities that refresh my mind and body have become good opportunities for me to disconnect from daily life and reflect inwardly.
― Could you tell me what your favorite books are?
It's "The Tale of the Heike" That starts with "The sound of the bells at the shrine of Gion echoes the fleeting nature of all things; the colors of the flowers of the twin sal trees reveal the truth that the prosperous must decline" Leaves a lasting impression of the Buddhist view that everything is transient and constantly changing.
― A Personal Message from President Ogura:
I came up with the phrase "Energetically Creating the Future". And even now, my feelings about it haven't changed. "Energetically Creating the Future" means taking an energetic and dynamic approach to creating your own future. It means having high energy and determination to make things happen and achieve your desires, not just waiting for things to progress. It's a mindset that focuses on creating a positive future proactively.
We look forward to your continued support in the future.