One Action Hem and Seal
Iron-on Instant Hem Tape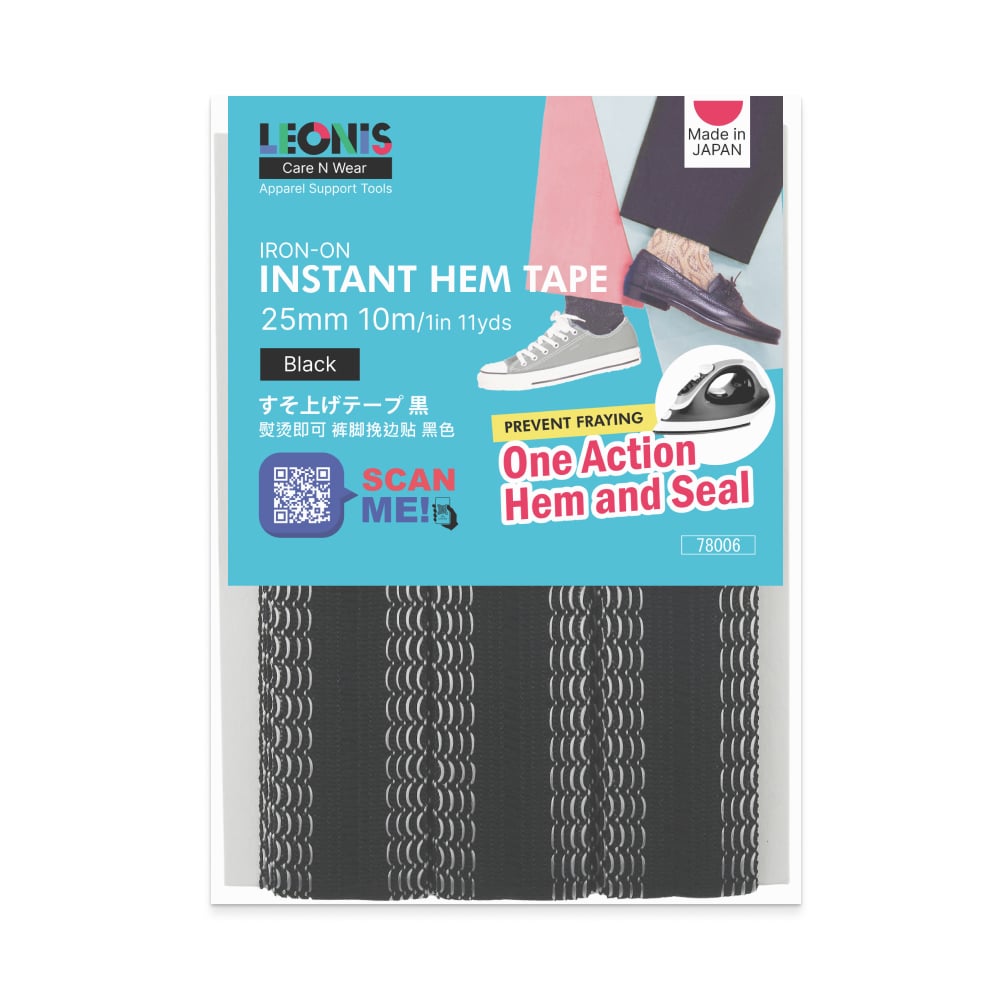 HEMS AND SEALS IN ONE QUICK ACTION

Our fabric hem tape makes hemming or mending clothing tears, fray holes and interior products at home much easier; suitable for most fabric materials.

PERFECT COVERAGE

Unlike the common fusible web tape, our Iron-on Instant Hem Tape is a woven tape that seals in frayed ends, supports the structure of the cloth and prevents unsightly bumps.

EXCELLENT DURABILITY

The hem tape blends smoothly into the hem seam and stays firm for a long time; the product is suitable for both machine wash and dry-cleaning.

VARIABLE COLOR CHOICES

You can easily match the hem tape with different clothing items to create the most natural-looking hemlines with our product collection.

EASY AS 1-2-3!

Measure where you would like to hem and fold the garment inside out, cut the desired length and iron the hemming ape over the fabric's raw edge.
| SKU | Product Name | Material | Dimensions | Weight |
| --- | --- | --- | --- | --- |
| 78021 | Iron-On Instant Hem Tape 1inch x 5.5yd (25mm x5m) White | Polyester 100% Adhesive thread: Polyamide fiber | 155*100*10mm | 26g |
| 78022 | Iron-On Instant Hem Tape 1inch x 5.5yd (25mm x5m) Beige | Polyester 100% Adhesive thread: Polyamide fiber | 155*100*10mm | 26g |
| 78023 | Iron-On Instant Hem Tape 1inch x 5.5yd (25mm x5m) Light Gray | Polyester 100% Adhesive thread: Polyamide fiber | 155*100*10mm | 26g |
| 78024 | Iron-On Instant Hem Tape 1inch x 5.5yd (25mm x5m) Navy Blue | Polyester 100% Adhesive thread: Polyamide fiber | 155*100*10mm | 26g |
| 78025 | Iron-On Instant Hem Tape 1inch x 5.5yd (25mm x5m) Dark Gray | Polyester 100% Adhesive thread: Polyamide fiber | 155*100*10mm | 26g |
| 78026 | Iron-On Instant Hem Tape 1inch x 5.5yd (25mm x5m) Black | Polyester 100% Adhesive thread: Polyamide fiber | 155*100*10mm | 26g |