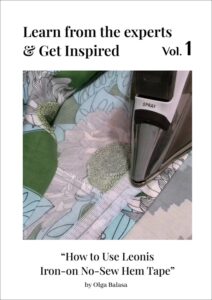 We are excited to announce that our product has received a recommendation from Olga, an expert in the fields of sewing, and embroidery! Olga is an experienced seamstress with over 30 years of sewing experience. Her passion for handicrafts has driven her to share her skills and enthusiasm with others through online video tutorials.
In this article, Olga provides a comprehensive introduction to our product: Leonis Iron-on Instant Hem Tape. She discusses its features, advantages, and practical applications, and shares some interesting use cases. Now, you can modify pants legs, hem curtains, or adjust the hemline of a skirt without sewing.
If you want to learn more about the tips and suggestions for using the Leonis Iron-on Instant Hem Tape, do not miss Olga's fascinating article! Read this article to get practical tips and suggestions on how to better use our product in your sewing projects.