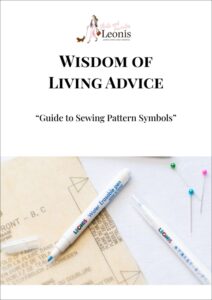 Are you new to sewing and feeling overwhelmed by the various symbols on sewing patterns? Don't worry, you're not alone! In our latest article, "Guide to Sewing Pattern Symbols and Markings", we break down the most common symbols found on sewing patterns and explain what each one means.
From grain lines to darts, our guide covers it all. We even recommend our favorite fabric marking tool, the Leonis water erasable fabric marking pen, and explain how to transfer pattern markings to your fabric.
Whether you're a beginner or a seasoned pro, understanding sewing pattern symbols is essential for achieving a successful sewing project. With our guide, you'll have the confidence to pick up any sewing pattern and dive right in! So, what are you waiting for? Check out our guide now and start sewing with ease!